THE SIGNIFICANCE ELECTRICIANS
Use a licensed electrician
Imagine this: You plug your new blender into the wall socket. The blender flashes cold blue and you hear a soft crackle. It's not something you think about at first. It happens again and again and you feel the burning sensation. You take a deep breath, then you grab your phone and search for local electricians.
Although this is an example that we are familiar with, it's not the only one. We've all been there. Although we don't want to tell you why an electrician is necessary, it's important that you do. We have said before that DIY can be dangerous. However, you shouldn't hire an unqualified or registered electrician.
We'll show you the best electrician, Elrctrogem Electrical Services
How do I identify a licensed electrician
Before you hire an electrician, first make sure they are licensed.
Do a background check. Look at their website to see the services they offer. You will find anything that states they are registered and licensed as qualified electricians.
You can read some customer reviews. Look at the reviews on Google and/or search for their name on Hello Peter. It is a smart idea to check the average ratings.
The Consequences Of Hiring An Unlicensed Electrician
Remember that many unregistered electricians also aren't qualified, regardless of their claims. While finances are often a factor in selecting an electrician, there are serious consequences to cutting corners such as:
There are serious safety hazards. Safety standards have been established for a reason. If electrical systems are not maintained properly and carefully, they can prove to be dangerous. House fires, electrocution and equipment & system malfunction are all possible safety hazards. All of these can often prove fatal. Safety risks are greater if children or pets live in the house.
Property and electrical system damage. The entire system may need to be replaced if there is permanent damage. Repairing damage can cost more than hiring a qualified electrician.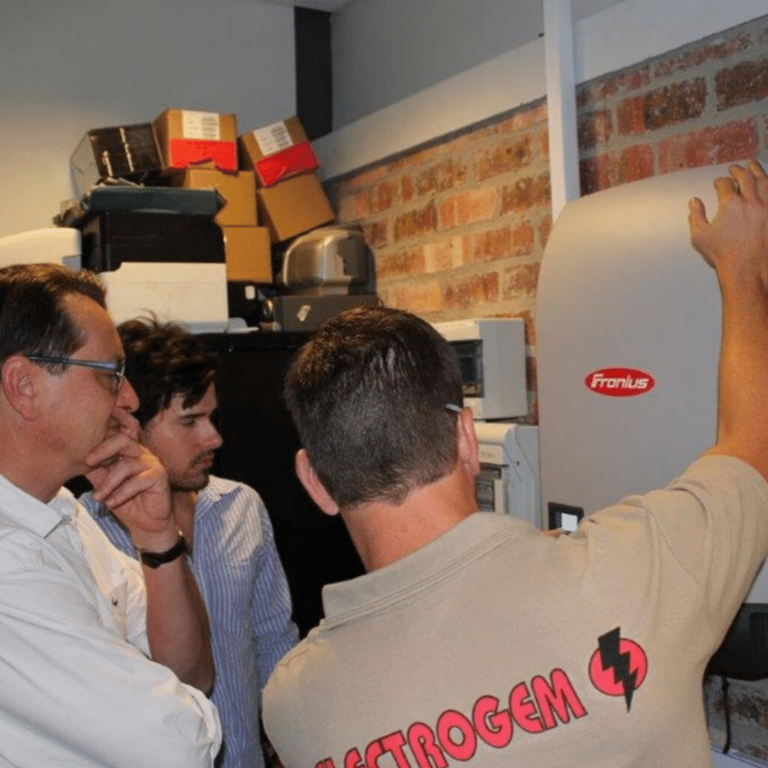 Electrogem Electrical Services focuses on how to create a safe and sound electric installation for your home or business. The installation will be safe and efficient thanks to our master electricians.
The importance of electricians in industries
It takes dedication to study and apprenticeship to become an industrial electrician. Then, you will be able to learn the trade and find a job. You're well on your way to a fulfilling career. You are familiar with the regulations and can work with various industries. Your job is to ensure businesses have the power they need to continue to operate efficiently.
Electricians and Their Responsibility
Clients trust you to install electrical power, systems, telecommunications, security systems, and electronic controls at industrial sites. You will be responsible for wiring, installing and servicing electrical equipment. You could be responsible for new work, repairs, or maintenance, as well as repairing faulty equipment.
Basic Electrician Skills
Your job as an electrician in the industrial sector is crucial to the growth of the construction, steel production and electrical power industries. You will learn to read blueprints and drawings, and how to understand electrical code specifications.
Industries: Significance of Electricians
Electricians are essential in all spheres of our lives. They are essential in every aspect of life, just like electricity is vital. Every aspect of civil society is powered by electricity, including commerce and trade, entertainment and domestic life. The importance of electricity is not negated in all social spheres, but it is the industrial sector that benefits the most from its use. Because of the complex demands of factories, electricity is highly in demand. This is why electricians are needed to troubleshoot any problems.
Role of the Expert Electrician
A number of responsibilities fall on the shoulders of an industrial electrician. Before he can become a certified electrician for heavy industries, he must go through extensive training, exposure, apprenticeship, and education. He is now on the road to a rewarding career that can be both satisfying and challenging, after gaining sufficient work experience. An electrical engineer must be familiar with the workings of different industries and abide by all rules and regulations. Apart from technical skills, it is also necessary to have the right professional aptitude.
Let's take a look
Responsibly
An electrician working in an industrial setting will usually have the following tasks: installing electrical power and systems; telecommunications; fire alarms; security systems; electronic controls; wiring, servicing, and installing equipment. This includes any new work, additions or changes to an existing job, as well as maintenance and repair of malfunctioning systems.
Skills
An industrial electrician is responsible for the smooth operation of the construction, steel, manufacturing, and electric power companies. These sectors are where technical skills are essential. They require the ability to interpret engineering drawings and use blueprints with precision. These skills can be used to install, replace, and repair wiring, conduits and lighting, as well as other electrical components.
Electricians Cape Town - PV Installations "We Have The Experience"...
Things to Consider Before Hiring an Electrician
Unprofessional electricians can cause damage to your wiring, fuses, and breakers when repairing an electrical circuit in your home. If left unattended, electrical faults can lead to catastrophic results.
Although you might feel you can handle minor electrical repairs and installations, it is possible for the situation to escalate and endanger your life and that of everyone around you.
Numerous fires in commercial and residential buildings worldwide are caused by electrical faults. You should have the contact information of a professional electrician in case you need to assist you with an electrical emergency at your business or home.
What are the factors to consider when hiring an electrician.
Do Some Research
The household's electrical circuit can be very delicate. Begin by researching local electricians and making a list. Ask your family, friends and neighbors if they have ever hired them. Are they trustworthy and successful? Then, you can contact the potential electricians you've shortlisted to see if they have what it takes.
Professionalism
For your own benefit, it is important to work with someone who exhibits professionalism. From the moment you contact the technician, you can tell if they are a professional.
Without even meeting them in person, a good electrician will make it feel important. You should pay attention to how they communicate with and treat you.
Qualifications
License and insurance are the main difference between a professional electrician and an amateur. An electrician who is qualified and certified by the relevant authorities will be a good one. It is easy to hire someone without the right qualifications, and regret it later.
Experience
It is important to hire an experienced electrician. Inexperienced electricians could lead to many problems. Hiring inexperienced electricians can lead to poor work quality and unprofessional service.
Affordability
It is important to pay for electrical services. Before making your final decision, compare the charges of different electricians. Call-out fees may be applicable to certain services.
Insurance
An electrician who is a reputable professional should have insurance. This line of work is risky. In the worst case, it can lead to huge financial losses. You should insist on getting an electrician licensed and insured for your own protection. This informed decision will free you from any homeowner liability.
Visit the Electrician's website
Although it is not an exact way to tell if a contractor is trustworthy, their website can give you a good idea of how organized and professional they are. You can check to see if the contractor is able to do what you need. You can reach them via their website. It is often professional to respond quickly. If possible, you can also view their history.